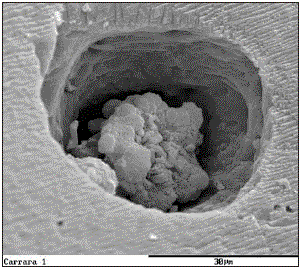 Figure 1. Scanning electron micrograph of a marble-inhabiting fungal colony within a pit, which has steep walls caused by biochemical and partially biophysical mechanisms. The marble was taken directly from a quarry.

図1.大理石の穴に住む菌類コロニーの走査電顕写真で、穴の壁が急なのは生物化学的かつ一部生物物理学的メカニズムによる。大理石は採石場から直接に採取された。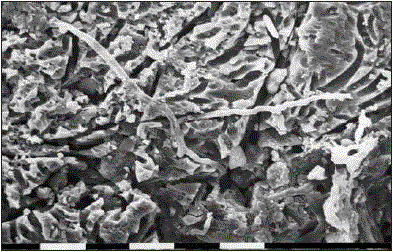 Figure 2. Scanning electron micrograph of the surface of a mineral grain covered by grooves that may have been created by fungal hyphae. Two hyphae are visible. The feldspar grain originates from the E horizon of a 5400-year-old sand dune along Lake Michigan (Scale bar size: 10 μm).
図2.菌類の菌糸によってつくられたと考えられる溝に覆われた、鉱物粒子の表面の走査電顕写真。2本の菌糸が見える。長石粒子はミシガン湖に沿う5400年前の砂丘のE層からのもの(スケールのバーの長さ:10μm)。
〔『Hoffland,E., Kuyper,T.W., Wallander,H., Plassard,C., Gorbushina,A.A., Haselwandter,K., Holmstrom(後ろのoの頭に¨),S., Landeweert,R., Lundstrom(oの頭に¨),U.S., Rosling,A., Sen,R., Smits,M.M., van Hees,P.A.W. and van Breemen,N.(2004): The role of fungi in weathering. Frontiers in Ecology and the Environment, 2(5), 258-264.』から〕