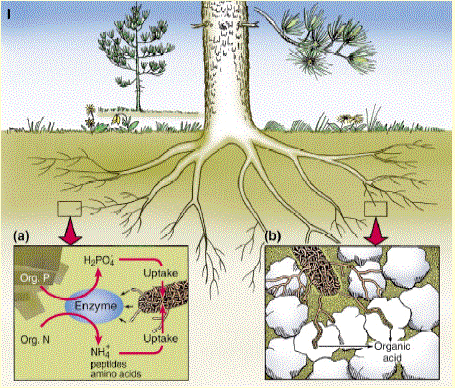 Box 3. Nutrient mobilization by ectomycorrhizal fungi
 As well as the quantitative effects on plant nutrient uptake (increase in uptake surface and exploited soil volume), the ectomycorrhizal fungus influences the uptake of plant nutrients in two qualitative ways:
 (Fig. Ia) Via enzyme production, the ectomycorrhizal fungus can utilize organic nitrogen (N) and phosphorous (P) forms, which would otherwise remain largely unavailable to roots. Nutrient mobilization from amino acids, peptides, proteins, amino sugars, chitin and nucleic acids has been showna, together with transfer of N and P into the host planta,b. Direct hyphal absorption of amino acids and simple peptides can also occura .
( Fig. Ib) The ectomycorrhizal fungus can mobilize P, potassium (K), calcium (Ca) and magnesium (Mg) from solid mineral substrates through organic acid excretionc,d,e. In addition, tunnels in weatherable minerals enable ectomycorrhizal hyphae to reach the interior of the minerals and access P from apatite inclusions. Essential nutrients become available to the host plant via the ectomycorrhizal myceliumc. Analogous to their organic nutrient mobilizing capabilities, the abilities of different ectomycorrhizal fungi to mobilize inorganic nutrients might be species specificf.
ボックス3.外生菌根菌による栄養流動
 植物の栄養摂取に対する定量的な影響(摂取表面および利用される土壌体積の増加)のほかに、外生菌根菌は二通りの定性的な方法で植物の栄養摂取に影響を与える:
 (Fig. Ia) 酵素生産によって、外生菌根菌は有機窒素(N)とリン(P)化学種を利用できるが、これらの大部分はさもなければ根に利用できないままになってしまう。アミノ酸、ペプチド、蛋白質、アミノ糖、キチン、核酸からの栄養流動aが、NおよびPの親植物への輸送a,bとともに、示されてきている。アミノ酸と単純なペプチドの菌糸による直接的な吸収も起こりえるa。
 (Fig. Ib) 外生菌根菌は、有機酸の排出によって固体鉱物基質からP・カリウム(K)・カルシウム(Ca)・マグネシウム(Mg)を流動させることができるc,d,e。さらに、風化しやすい鉱物中の穿孔は、外生菌根菌が鉱物内部に到達してアパタイト包有物からPを取得することを可能にする。必須栄養は外生菌根菌糸によって親植物に利用できるようになるc。それらの有機栄養流動能力と類似して、異なる外生菌根菌が無機栄養を流動させる能力は特定の種に限られるであろうf。
References
a Chalot, M. and Brun, A. (1998) Physiology of organic nitrogen acquisition by ectomycorrhizal fungi and ectomycorrhizas. FEMS Microbiol. Rev. 22, 21-44
b Antibus, R.K. et al. (1997) Root surface phosphatase activities and uptake of 32Plabelled inositol phosphate in field-collected gray birch and red maple roots. Mycorrhiza 7, 39-46
c Wallander, H. (2000) Uptake of P from apatite by Pinus sylvestris seedlings colonized by different ectomycorrhizal fungi. Plant Soil 218, 249-256
d Wallander, H. and Wickman, T. (1999) Biotite and microcline as potassium sources in
ectomycorrhizal and non-mycorrhizal Pinus sylvestris seedlings. Mycorrhiza 9, 25-32
e Wallander, H. (2000) Use of strontium isotopes and foliar K content to estimate
weathering of biotite induced by pine seedlings colonised by ectomycorrhizal fungi from two different soils. Plant Soil 222, 215-229
f Lapeyrie, F. et al. (1991) Phosphate solubilizing activity of ectomycorrhizal fungi in vitro. Can. J. Bot. 69, 342-346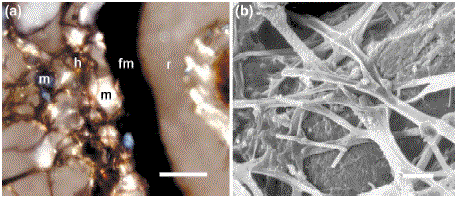 Fig. 1. Hyphae linking plants to minerals. A thin-section of (a) a
cross-sectioned ectomycorrhizal root tip illustrates how (h)
ectomycorrhizal hyphae, emanating from (fm) the fungal mantle around (r) a root, enclose (m) mineral particles from the adjacent soil. The direct contact between the hyphae and the mineral surface is revealed on (b) a SEM picture of branching hyphae that cover and penetrate a mineral particle. Scale bars = 50 μm and 10 μm respectively.
図1.植物を鉱物と結びつける菌糸。(a)横断面で切られた外生菌根尖端の薄片は、根(r)の周辺のマントル(fm)から発した外生菌根菌子(h)が隣接する土壌から鉱物粒子(m)をどのように囲い込んでいるかを示している。菌糸と鉱物表面間の直接の接触は、(b)鉱物粒子を覆って貫く、分枝した菌糸のSEM写真に示されている。バーの長さはそれぞれ50μmと10μm。
〔『Landeweert,R., Hoffland,E., Finlay,R.D., Kuyper,T.W. and van Breemen,N.(2001): Linking plants to rocks: ectomycorrhizal fungi mobilize nutrients from minerals. Trends in Ecology & Evolution, 16(5), 248-254.』から〕