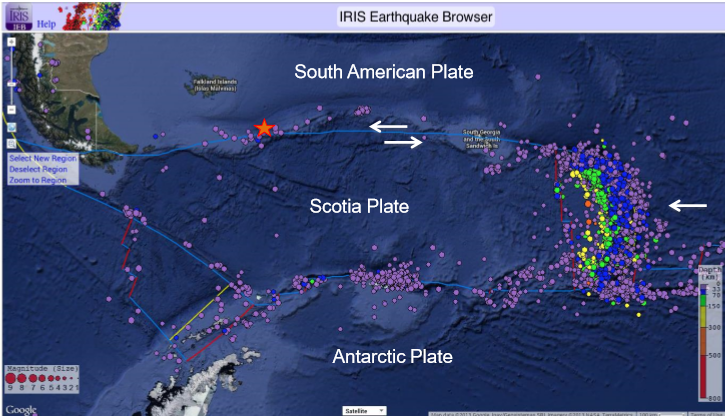 This earthquake epicenter (red star) is plotted on the map with regional earthquakes M 5 – 8 since 1973.  The Scotia Plate is caught between the Antarctic and South America Plates and is bounded on it's north and south sides by plate boundaries that are dominantly transform (strike-slip) boundaries. (Only the major plates are labeled)
 At the location of this earthquake, the Scotia plate moves ENE with respect to South America at a rate of approximately 9.5 mm/yr.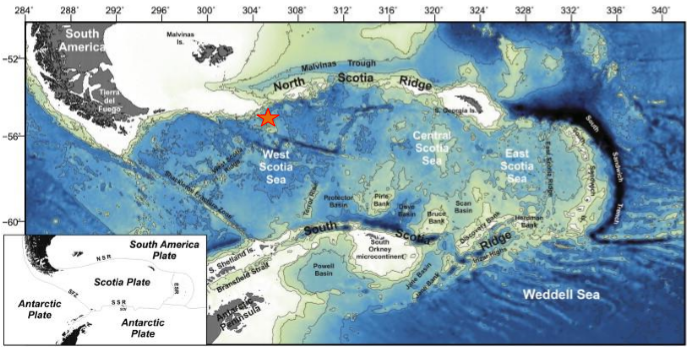 Bathymetric contour map of the Scotia Sea (see notes for reference & description)
 The recent earthquakes occurred on or near the North Scotia Ridge, the eastwest trending rise along the left-lateral transform boundary that separates the Scotia and South American Plates.
 According to the USGS, there are no land-based observations within the Scotia Plate to measure plate motion; all reported plate motions are derived from remote earthquake recordings.