Energy Watch Group(2006): Uranium resources and nuclear energy.
 EWG-Series No 1/2006。48p。【見る→】
---
Contents
Summary ................................................................................................................................... 4
Uranium and Nuclear Power ...................................................................................................... 7
Uranium Supply ......................................................................................................................... 7
Nuclear Power Plants ............................................................................................................... 17
History of nuclear power plants ............................................................................................... 17
Forecast of nuclear power capacity until 2030......................................................................... 20
Annex ...................................................................................................................................... 24
Annex 1: Various Definitions of Uranium Reserves ............................................................... 24
Annex 2: Historical Development of Uranium Resources....................................................... 26
Annex 3: Country by Country Assessment of Uranium Resources ......................................... 27
Annex 4: Uranium Mining and Energy Demand for Mining................................................... 30
Annex 5: Uranium Mining in France ....................................................................................... 32
Annex 6: Uranium Mining in the USA.................................................................................... 34
Annex 7: Uranium Mining Projects (Planned or under Construction)..................................... 36
Annex 8: The Development of Cigar Lake in Canada ............................................................. 38
Annex 9: Country by Country Assessment of Future Production Profiles Based on Resource Restriction (According to NEA 2006)....... 39
Annex 10: Nuclear Power Plants Under Construction............................................................. 42
Annex 11: Time Schedules for the New EPR Reactors in Finland and France ....................... 45
Literature ................................................................................................................................. 47
---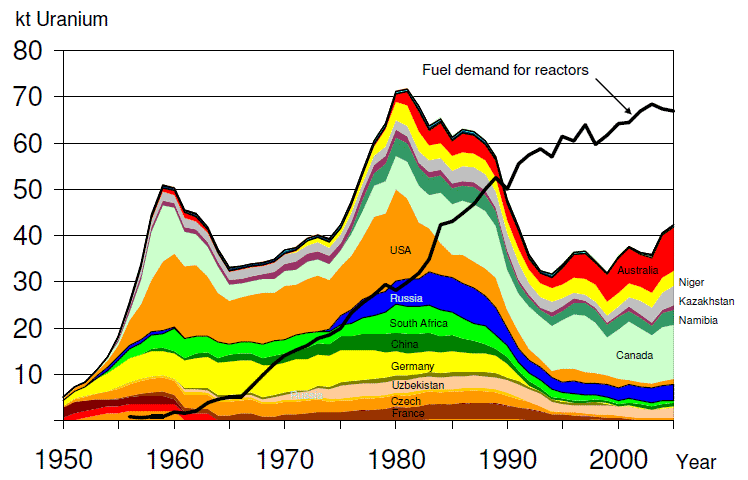 Figure 4: Uranium production and demand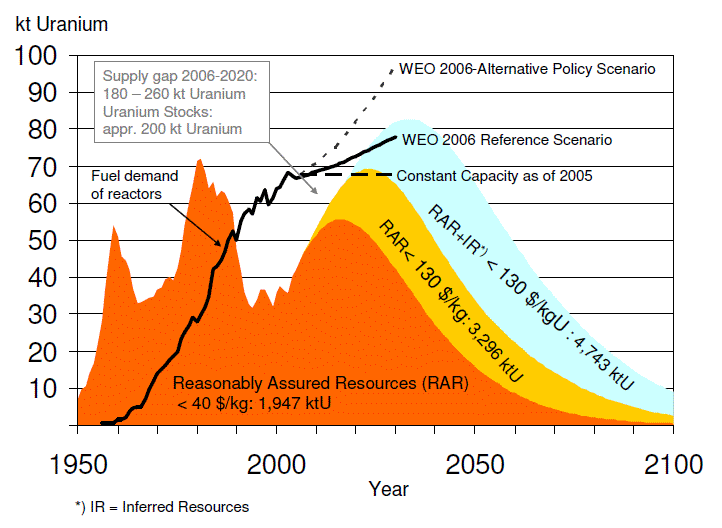 Figure 6: History and forecast of uranium production based on reported resources. The smallest area covers 1900 kt uranium which has the status of proved reserves while the data uncertainty increases towards the largest area which is based on possible reserves consisting of 4700 kt uranium.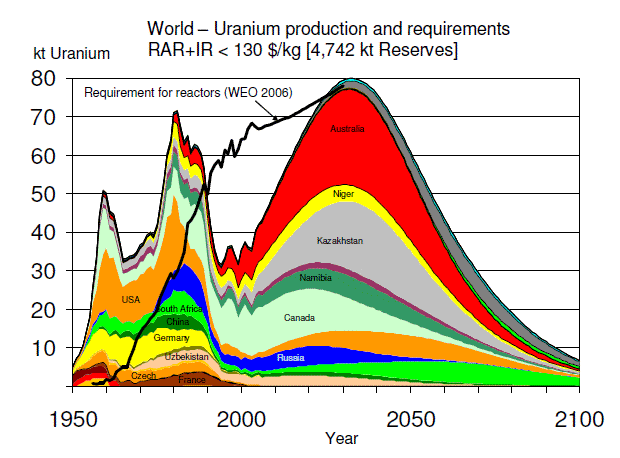 Figure A-9: Future production profile
If all "Reasonably Assured Resources" and "Inferred Resources < 130 $/kg U" are producible, this roughly corresponds to "Possible Reserves".
〔Energy Watch Group(2006)によるUranium resources and nuclear energyから〕
---
ホームへ